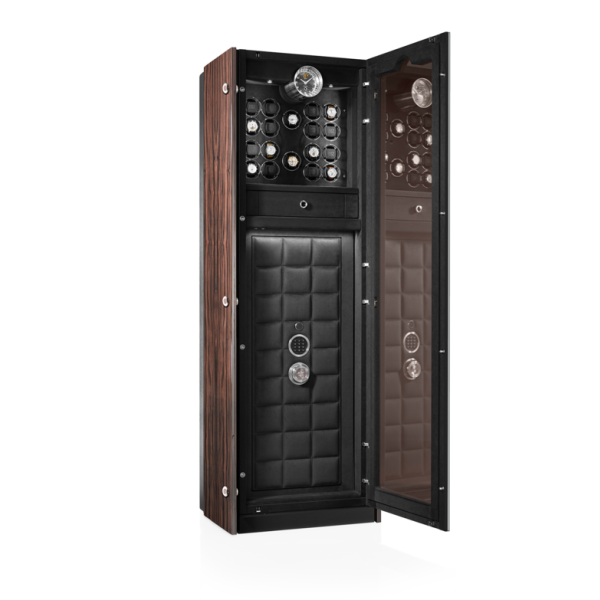 Buben & Zorweg Vision Standalone
Livraison partout dans le monde
Paiement 100% SÉCURISÉ (carte bancaire, virement ou prélèvement)
15 JOURS pour changer d'avis
Description
BUBEN & ZORWEG - Vision Standalone   The powerful lines of restrained designs in symbiosis with fascinating visual effects.   Fascinating, the unexpected variety of functions, which behind t
...
En savoir plus
BUBEN & ZORWEG - Vision Standalone
The powerful lines of restrained designs in symbiosis with fascinating visual effects.
Fascinating, the unexpected variety of functions, which behind the crystal-clear design of this masterpiece are only open to those who are authorized to access it: always a magical moment when a mirror becomes a robust glass door, that opens in a mysterious way. The symbiosis of state-of-the-art technology and design makes the VISION a powerful, luxurious accent for any ambience.

Highlights:
Aesthetic enhancement - The connection between spy mirror glass and unexpected visual effects makes the VISION - as well as SOLITAIRE, STANDALONE or INBUILT - the eye-catcher of every interior.

The experience of interaction - The secret of VISION - viewing and access are exclusively in the hands of the owner and become a fascinating experience every time anew.
The personality of the owner - A finely crafted safe and a precious watch collection on value-preserving TIME MOVER® modules - this is only one of many possibilities to individually design the inner workings of the VISION.

Facts
Technical data-
Key Facts Vision Standalone:
Casing and interior-
- Handmade housing in valuable Makassar high gloss (standalone) / oak (Inbuilt)
- Door of two-way mirror glass
- Comfort opening mechanism with remote control
- BUBEN&ZORWEG Signature Clock
- 27 TIME MOVER®
- 2 drawers for storage (inserts of your choice)
- Interior in fine velour, black
- Latest LED light technology with fading function
- Finest German craftsmanship

Safe-
- BUBEN&ZORWEG Safe SI-80
- Security class VdS I (German security certification)
- Redundant locking system with 7-digit number block and emergency key
- Stainless steel handle with mother of pearl inlays
- 8 TIME MOVER®
- 5 drawers for storage
- Safe door in finest velour with square stitching, black
- Safe interior in fine velour, black
- Latest LED light technology with fading function
Technical Details:
1886 x 620 x 540 mm (HxWxD)
310 kg
Power supply universal for Germany, United Kingdom, USA (100- 240 Volt)
Options:
At BUBEN&ZORWEG we believe in the power of uniqueness. In order to satisfy each and every one of our customers, we are happy to offer you a wide range of options for customization.
Customization:
You can configure your individual masterpiece from various colours, materials and interior fittings. Characteristic accents such as embroidered monograms or skilfully applied plaques can be used to personalise your masterpiece.
Bespoke:
If you want to realise your own ideas for your unique masterpiece in terms of dimensions, materials, interior design and functions, the team at B&Z BESPOKE will be happy to take care of your wishes. All the way to the complete room solution.
Référence : Buben-&-Zorweg-Vision-Standalone
Tableau de Conversion des tailles

EU
US
36 eu
4 us
36 2/3 eu
4.5 us
37 1/3 eu
5 us
38 eu
5.5 us
38 2/3 eu
6 us
39 1/3 eu
6.5 us
40 eu
7 us
40 2/3 eu
7.5 us
41 1/3 eu
8 us
42 eu
8.5 us
42 2/3 eu
9 us
43 1/3 eu
9.5 us
44 eu
10 us
44 2/3 eu
10.5 us
45 1/3 eu
11 us
46 eu
11.5 us
46 2/3 eu
12 us
47 1/3 eu
12.5 us
48 eu
13 us
48 2/3 eu
13.5 us
49 1/3 eu
14 us
50 eu
14.5 us
50 2/3 eu
15 us
51 1/3 eu
15.5 us
52 eu
16 us
52 2/3 eu
16.5 us
53 1/3 eu
17 us