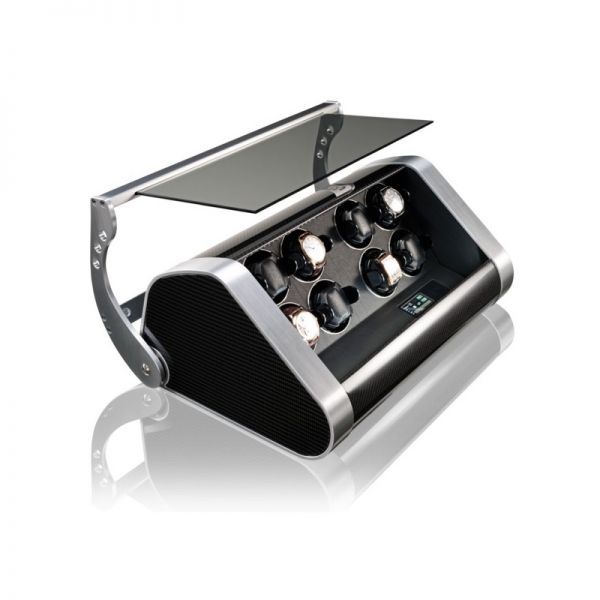 Buben & Zorweg Revolution 8 Carbon
Livraison partout dans le monde
Paiement 100% SÉCURISÉ (carte bancaire, virement ou prélèvement)
15 JOURS pour changer d'avis
Description
BUBEN & ZORWEG - Revolution 8    The sporty line: Powerful design inspired by Hyper sports cars Version: Carbon   The flowing lines of the rounded aesthetics of REVOLUTION pick up the mot
...
En savoir plus
BUBEN & ZORWEG - Revolution 8 
The sporty line: Powerful design inspired by Hyper sports cars

Version: Carbon
The flowing lines of the rounded aesthetics of REVOLUTION pick up the motif of time in the flow. And with the integrated TIME MOVER® Technology, they ensure that the precious watches never come to a standstill. The attractive frame for this inner life is formed by the well conceived combination of aluminium, stainless steel, valuable woods and glass.

Highlights:
The hyper sports car among the watch winders - Elegantly curved lines, the aluminium chassis, the accents of precious woods, croco leather or carbon and stainless steel. An uncompromisingly consistent design inspired by the interior of luxury cars.
Proven technology in an attractive ambience - The precious watches under the crystal clear glass pane of the REVOLUTION are protected from unauthorized access by a mechanical security lock.
Key Facts:
- Handmade housing in black high gloss lacquer with valuable inlays
- Aluminium Chassis
- BUBEN&ZORWEG "soft-close" mechanism
- German locking system with mechanical key
- Interior in fine Italian nappa leather, black
- Latest LED light technology with fading function
- Optionally available with presentation column
- Finest finishing in German craftsmanship
Technical Details:
Revolution 8
260 x 490 x 325 mm (HxWxD)
27 kg
8 TIME MOVER®

Options:
At BUBEN&ZORWEG we believe in the power of uniqueness. In order to satisfy each and every one of our customers, we are happy to offer you a wide range of options for customization.
Customization:
You can configure your individual masterpiece from various colours, materials and interior fittings. Characteristic accents such as embroidered monograms or skilfully applied plaques can be used to personalise your masterpiece.
Bespoke:
If you want to realise your own ideas for your unique masterpiece in terms of dimensions, materials, interior design and functions, the team at B&Z BESPOKE will be happy to take care of your wishes. All the way to the complete room solution.
Référence : Buben-&-Zorweg-Revolution-8-carbon
Tableau de Conversion des tailles

EU
US
36 eu
4 us
36 2/3 eu
4.5 us
37 1/3 eu
5 us
38 eu
5.5 us
38 2/3 eu
6 us
39 1/3 eu
6.5 us
40 eu
7 us
40 2/3 eu
7.5 us
41 1/3 eu
8 us
42 eu
8.5 us
42 2/3 eu
9 us
43 1/3 eu
9.5 us
44 eu
10 us
44 2/3 eu
10.5 us
45 1/3 eu
11 us
46 eu
11.5 us
46 2/3 eu
12 us
47 1/3 eu
12.5 us
48 eu
13 us
48 2/3 eu
13.5 us
49 1/3 eu
14 us
50 eu
14.5 us
50 2/3 eu
15 us
51 1/3 eu
15.5 us
52 eu
16 us
52 2/3 eu
16.5 us
53 1/3 eu
17 us
Vous aimerez également