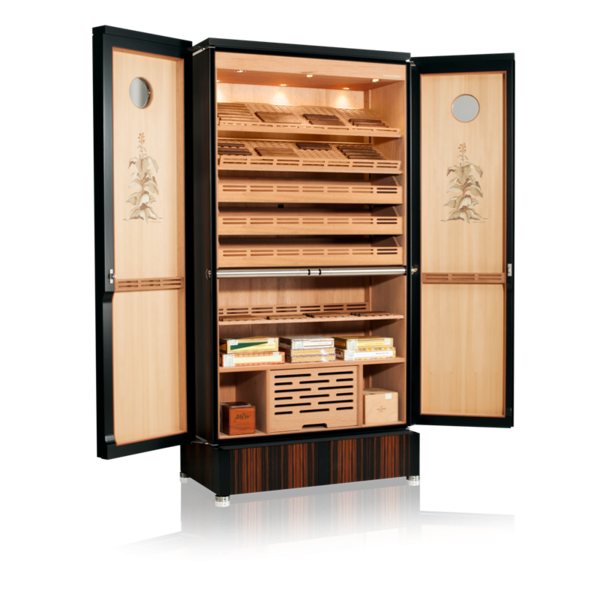 Buben & Zorweg Grand Connoisseur
Livraison partout dans le monde
Paiement 100% SÉCURISÉ (carte bancaire, virement ou prélèvement)
15 JOURS pour changer d'avis
Description
BUBEN & ZORWEG - Grand Connoisseur   Optimal environment for special treasures of passionate cigar lovers.   The fascinating ritual of selecting and preparing a fine cigar in a good hour alo
...
En savoir plus
BUBEN & ZORWEG - Grand Connoisseur
Optimal environment for special treasures of passionate cigar lovers.
The fascinating ritual of selecting and preparing a fine cigar in a good hour alone or in pleasant company, and then enjoying it puff by puff, alone or in the company of good conversation, needs the background of an optimal environment for valuable cigar collections. The CONNOISSEUR from BUBEN&ZORWEG offers space for up to 2000 cigars. The masterpiece for passionate collectors captivates in every interior.
Timeless design - The CONNOISSEUR enhances every interior thanks to its classic lines. The clarity of German design and the charisma of hand-picked precious woods go well with an exquisite cigar lounge as well as in the salon of a passionate cigar collector.
Best humidor technology - The engineers at BUBEN&ZÖRWEG have integrated a humidor system into the CONNOISSEUR which, thanks to its state-of-the-art technology, stores exquisite cigar specialities in a perfect, electronically monitored and controlled microclimate to preserve their value.
Security for relaxed indulgence - Access to the well-deserved, special cigar is only permitted to those who are authorized to open the mechanical security lock.
Facts
Technical data-
Key Facts Grand Connoisseur:
Housing
- Handmade housing in black silk matt with valuable high gloss Makassar inlays
- Portholes framed in stainless steel
- BUBEN&ZORWEG security locking mechanism with
mechanical key

- Height-adjustable stainless steel feet
- Finest finishing in German craftsmanship
Humidor
- Absolutely constant air humidity
- Highest shifting precision
- Automatic microbial contamination protection
- Fully electronic water level indicator
- High-precision measuring sensors
- Air conduction system for optimal distribution of the air humidity
- Cigar aging suitable (long-term storage over several decades)
- Interior in Spanish cedar wood and mahogany for optimal aroma development
- Latest LED light technology with fading function
Technical Details:
- Storage space for about 1.000 cigars
- 1820 x 555 x 505 mm (HxWxD)
- 130 kg
- Power supply universal for Germany, United Kingdom, USA (100 -240 Volt)
Options:
At BUBEN&ZORWEG we believe in the power of uniqueness. In order to satisfy each and every one of our customers, we are happy to offer you a wide range of options for customization.
Customization:
You can configure your individual masterpiece from various colours, materials and interior fittings. Characteristic accents such as embroidered monograms or skilfully applied plaques can be used to personalise your masterpiece.
Bespoke:
If you want to realise your own ideas for your unique masterpiece in terms of dimensions, materials, interior design and functions, the team at B&Z BESPOKE will be happy to take care of your wishes. All the way to the complete room solution.
Référence : Buben-&-Zorweg-Grand-Connoisseur
Tableau de Conversion des tailles

EU
US
36 eu
4 us
36 2/3 eu
4.5 us
37 1/3 eu
5 us
38 eu
5.5 us
38 2/3 eu
6 us
39 1/3 eu
6.5 us
40 eu
7 us
40 2/3 eu
7.5 us
41 1/3 eu
8 us
42 eu
8.5 us
42 2/3 eu
9 us
43 1/3 eu
9.5 us
44 eu
10 us
44 2/3 eu
10.5 us
45 1/3 eu
11 us
46 eu
11.5 us
46 2/3 eu
12 us
47 1/3 eu
12.5 us
48 eu
13 us
48 2/3 eu
13.5 us
49 1/3 eu
14 us
50 eu
14.5 us
50 2/3 eu
15 us
51 1/3 eu
15.5 us
52 eu
16 us
52 2/3 eu
16.5 us
53 1/3 eu
17 us
Vous aimerez également