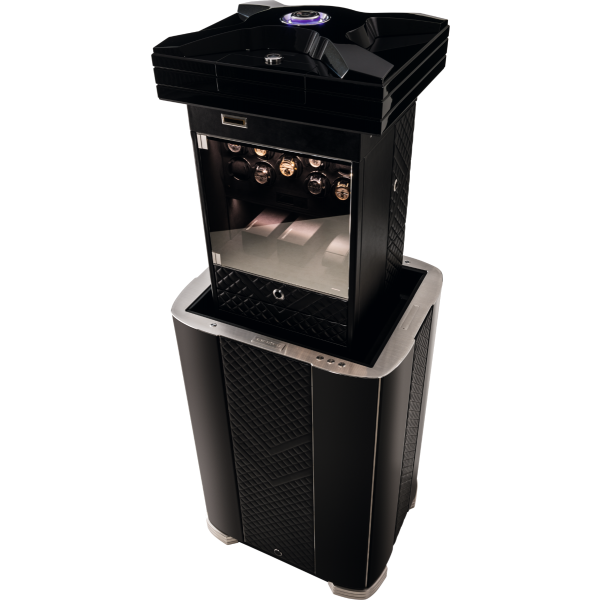 Buben & Zorweg X-007 Extreme
Livraison partout dans le monde
Paiement 100% SÉCURISÉ (carte bancaire, virement ou prélèvement)
15 JOURS pour changer d'avis
Description
BUBEN & ZORWEG X-007 Extreme   The fascination of the surprising: the object of art as a safe.   In the search for the unexpected, for convincing innovations in safes, BUBEN&ZORWEG has
...
En savoir plus
BUBEN & ZORWEG X-007 Extreme
The fascination of the surprising: the object of art as a safe.
In the search for the unexpected, for convincing innovations in safes, BUBEN&ZORWEG has created uniqueness with the X-007 a safe that nobody would identify as a safe. At first glance. When the owner then activates the opening mechanism and the contents rise from the massive block that stands in the room like an erratic work of art, visitors react with fascinated amazement.
The surprise effect: Artwork turns out to be a safe - When the X-007 shows its true character. Brave to design a safe without doors. Fascinating when the result is so convincing.

Disguise and strength - Where no safe is suspected, nobody thinks of valuable contents - disguise as security feature. At the same time, this masterpiece has been certified by the VdS as a strong, hard safe that only opens for those who have mastered the access code and touchpad.

The interior: adaptable - The accessibility from all sides of the interior in the X-007 offers optimal conditions for adapting the interior design to the owners' individual needs - for everything that requires reliable protection and impressive presentation.

Key Facts:
Housing and interior
- Handmade housing in black high gloss lacquer with valuable inlays
- Hand polished stainless steel applications
- Finest finishing in German craftsmanship
- Protected display housing behind a two-way mirror glass door
- 9 TIME MOVER®
- Universal presentation space
- 2 drawers for storage (inserts of your choice)
- 2 storage compartments on the sides
- Latest LED light technology with fading function
 
Safe
- BUBEN&ZORWEG Safe
- Security class VdS II (German security certification)
- Swiss electronic lock Paxos® with emergency crank in case of power failure
- Unique lifting mechanism that brings out the interior of the safe
- Patented safe wall construction with RELASTAN®.
Technical Details:
1246 x 798 x 665 mm (closed)(HxWxD)
2046 x 798 x 665 mm (open)(HxWxD)
580 kg
Power supply universal for Germany, United Kingdom, USA (100- 240 Volt)
Options:
At BUBEN&ZORWEG we believe in the power of uniqueness. In order to satisfy each and every one of our customers, we are happy to offer you a wide range of options for customization.
Customization:
You can configure your individual masterpiece from various colours, materials and interior fittings. Characteristic accents such as embroidered monograms or skilfully applied plaques can be used to personalise your masterpiece.
Bespoke:
If you want to realise your own ideas for your unique masterpiece in terms of dimensions, materials, interior design and functions, the team at B&Z BESPOKE will be happy to take care of your wishes. All the way to the complete room solution.
Référence : Buben-&-Zorweg-X-007-Extreme
Tableau de Conversion des tailles

EU
US
36 eu
4 us
36 2/3 eu
4.5 us
37 1/3 eu
5 us
38 eu
5.5 us
38 2/3 eu
6 us
39 1/3 eu
6.5 us
40 eu
7 us
40 2/3 eu
7.5 us
41 1/3 eu
8 us
42 eu
8.5 us
42 2/3 eu
9 us
43 1/3 eu
9.5 us
44 eu
10 us
44 2/3 eu
10.5 us
45 1/3 eu
11 us
46 eu
11.5 us
46 2/3 eu
12 us
47 1/3 eu
12.5 us
48 eu
13 us
48 2/3 eu
13.5 us
49 1/3 eu
14 us
50 eu
14.5 us
50 2/3 eu
15 us
51 1/3 eu
15.5 us
52 eu
16 us
52 2/3 eu
16.5 us
53 1/3 eu
17 us
Vous aimerez également