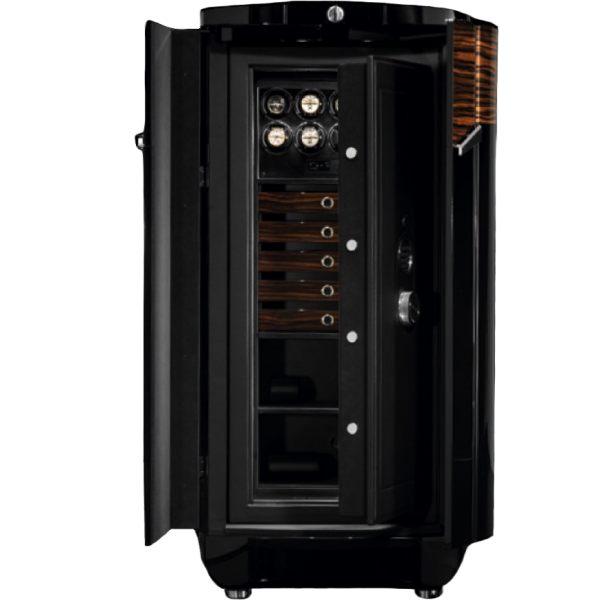 Buben & Zorweg - Galaxy XL Macassar
Livraison partout dans le monde
Paiement 100% SÉCURISÉ (carte bancaire, virement ou prélèvement)
15 JOURS pour changer d'avis
Description
BUBEN & ZORWEG - Galaxy XL   The powerful lines of restrained designs in symbiosis with fascinating visual effects.   Version: Macassar   The GALAXY is a masterpiece from BUBEN&ZORWEG
...
En savoir plus
BUBEN & ZORWEG - Galaxy XL
The powerful lines of restrained designs in symbiosis with fascinating visual effects.
The GALAXY is a masterpiece from BUBEN&ZORWEG, straightforward in design with timeless Art Deco elements and perfect in the craftsmanship of the finest materials. Exclusive woods with perfect grain, finest lacquers, powerful stainless steel accents. And when the doors open, the soul of the GALAXY is revealed: A BUBEN&ZORWEG safe with VdS certification An innovative and award-winning symbiosis of design and functionality.

Highlights:
Art-Deco as an eye catcher - a safe as the core - The GALAXY for the most demanding interior – linearly designed Art Deco eye-catcher.  Who would suspect a BUBEN&ZORWEG Safe SI-110 behind the hinged doors?
Distinguished with the German Design Award - The combination of high-gloss and semi-gloss elements, the interaction of fine woods and lacquers, the powerful stainless steel accents, the hinged doors behind which the surprise is hidden - this successful symbiosis convinced the German Design Council to award the GALAXY the German Design Award.
Double security - For the security of your valuables the GALAXY is double secured: with a personal transponder key and a 7-digit number pad. When security is right, it is easy to enjoy beauty!
Facts
Technical data-

Key Facts Galaxy XL:
Housing
- Handmade housing in black high gloss with valuable inlays
- BUBEN&ZORWEG security locking mechanism with mechanical key
- folding doors with hand polished stainless steel handles
- Height-adjustable stainless steel feet
- Finest finishing in German craftsmanship
Safe
- BUBEN&ZORWEG Safe SI-110
- Security class VdS I (German security certification)
- Redundant locking system with 7-digit number block and emergency key
- 8 TIME MOVER®
- 5 drawers (inserts of your choice)
- Safe door in finest Italian nappa leather, black
- Safe interior in fine velour, black
- Latest LED light technology with fading function
Technical Details:
Galaxy XL
1362 x 635 x 545 mm (HxWxD)
300 kg
Individual Masterpieces
Options:
At BUBEN&ZORWEG we believe in the power of uniqueness. In order to satisfy each and every one of our customers, we are happy to offer you a wide range of options for customization.
Customization:
You can configure your individual masterpiece from various colours, materials and interior fittings. Characteristic accents such as embroidered monograms or skilfully applied plaques can be used to personalise your masterpiece.
Bespoke:
If you want to realise your own ideas for your unique masterpiece in terms of dimensions, materials, interior design and functions, the team at B&Z BESPOKE will be happy to take care of your wishes. All the way to the complete room solution.
Référence : Buben-&-Zorweg-Galaxy-XL-Macassar
Tableau de Conversion des tailles

EU
US
36 eu
4 us
36 2/3 eu
4.5 us
37 1/3 eu
5 us
38 eu
5.5 us
38 2/3 eu
6 us
39 1/3 eu
6.5 us
40 eu
7 us
40 2/3 eu
7.5 us
41 1/3 eu
8 us
42 eu
8.5 us
42 2/3 eu
9 us
43 1/3 eu
9.5 us
44 eu
10 us
44 2/3 eu
10.5 us
45 1/3 eu
11 us
46 eu
11.5 us
46 2/3 eu
12 us
47 1/3 eu
12.5 us
48 eu
13 us
48 2/3 eu
13.5 us
49 1/3 eu
14 us
50 eu
14.5 us
50 2/3 eu
15 us
51 1/3 eu
15.5 us
52 eu
16 us
52 2/3 eu
16.5 us
53 1/3 eu
17 us