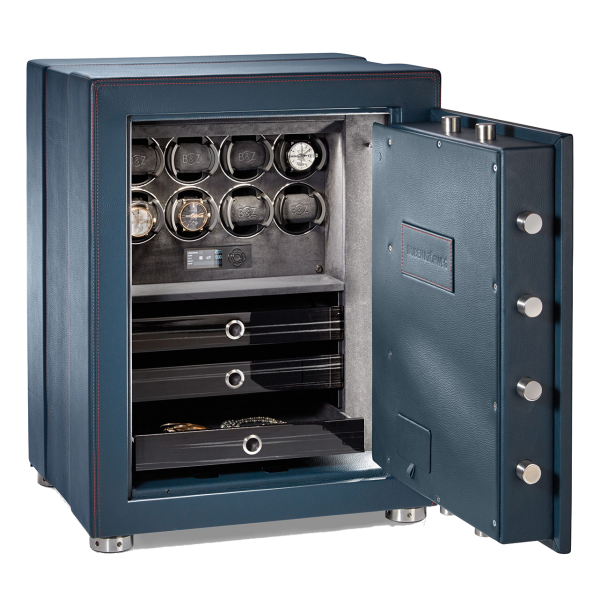 Buben & Zorweg - Compact S
Livraison partout dans le monde
Paiement 100% SÉCURISÉ (carte bancaire, virement ou prélèvement)
15 JOURS pour changer d'avis
Description
BUBEN & ZORWEG - Compact S   The COMPACT SAFE series (part of the Bespoke line) is a masterpiece of fine German craftsmanship for the most elite prestigious collectors from the House of BUBEN &
...
En savoir plus
BUBEN & ZORWEG - Compact S
The COMPACT SAFE series (part of the Bespoke line) is a masterpiece of fine German craftsmanship for the most elite prestigious collectors from the House of BUBEN & ZORWEG. A  refined space saving watch winding, compact multi-storage safe with elegant, classic timeless design combined with modern innovative technology to create a lasting aesthetically pleasing appeal.
The COMPACT S winding system is hand-crafted with the finest Italian nappa leathers with padded decorative stitched exterior. The interior is covered in luxurious plush velours and drawers of glossy precious wood inlays. Equipped with 8 or 16 TIMEMOVER winding units and 3 or a single storage drawer with polished stainless steel hardware and your choice of inserts. Just the right size and space to store your most valuable precious treasures in chic style with protection. Your watch collection will be safe and secure behind a Swiss security lock with mechanical key and mother-of-pearl accents.
The inner SI-60 German security certified safe with redundent 7-digit keypad locking system and emergency key will keep additonal items secure. The state of the art LED lighting system will beautifully illuminate your collection with a fade out function for impressive effect. Fitted with height adjusting stainless feet for your convenience. This piece can be customized to your specification of storage drawer components and TIMEMOVER winding units.
DETAILS Compact S Safe:
Locking Mechanism
BUBEN&ZORWEG Safe SI-60
Safety class VdS I (German security certification) with 8 solid stainless steel bolts
Redundant locking system with 7-digit keypad and emergency key
Stainless steel handle with mother-of-pearl inlay
Safe door in finest Italian nappa leather, black
Safe interior in finest velour, black
Material
 Covered in Italian Nappa leather with hand stitched finishing
Interior in finest soft velour & polished precious woods.
 Adjustable stainless steel feet
Swiss made Kaba security lock and mechanical key
State of the art LED lighting system with fade technology
Power Source
AC power adapter
Winding Operation
Programmablevia built in control panel
650-800-900 turns per day
Adjustable directions (clockwise/counter-clockwise)
Speed Mode - continuous winding
Sleep Phase - 10hrs per day
Storage
8,16 watch winders
3 or single storage drawers of your preference
Gentleman insert
Jewelry insert
Watch drawer
Universal tray
Watch Holder
Cradle (Spring loaded push button)
Max. Dia. Of Watch (including Crown)
Up to 57 mm

Dimensions
 24.6 x 19 x 16.5 inches
Warranty
5 year Factory Warranty
Additional Features
State-of-the-art LED lighting system with fade function
Height-adjustable stainless steel feet
The internal configurations and external finishing can be modified according to customers specifications.
Fire resistant
TL rating
Référence : Buben-&-Zorweg-Compact-S
Tableau de Conversion des tailles

EU
US
36 eu
4 us
36 2/3 eu
4.5 us
37 1/3 eu
5 us
38 eu
5.5 us
38 2/3 eu
6 us
39 1/3 eu
6.5 us
40 eu
7 us
40 2/3 eu
7.5 us
41 1/3 eu
8 us
42 eu
8.5 us
42 2/3 eu
9 us
43 1/3 eu
9.5 us
44 eu
10 us
44 2/3 eu
10.5 us
45 1/3 eu
11 us
46 eu
11.5 us
46 2/3 eu
12 us
47 1/3 eu
12.5 us
48 eu
13 us
48 2/3 eu
13.5 us
49 1/3 eu
14 us
50 eu
14.5 us
50 2/3 eu
15 us
51 1/3 eu
15.5 us
52 eu
16 us
52 2/3 eu
16.5 us
53 1/3 eu
17 us