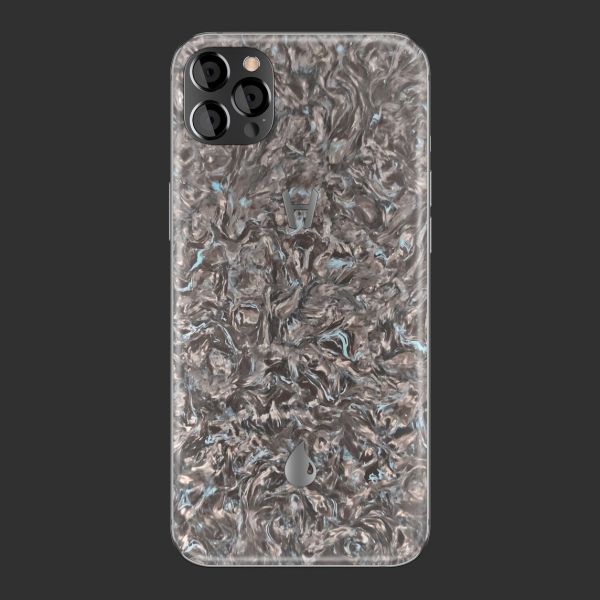 Hadoro iPhone 12 Series Carbon WATER - a limited edition around 4 elements | Water - Black Rhodium
Livraison partout dans le monde
Paiement 100% SÉCURISÉ (carte bancaire, virement ou prélèvement)
15 JOURS pour changer d'avis
Description
The flawless Hadoro design transports you straight into Nature by bringing you a customized carbon fiber iPhone.  This handcrafted item features the four elements: Nature, Fire, Water and Air. Each
...
En savoir plus
The flawless Hadoro design transports you straight into Nature by bringing you a customized carbon fiber iPhone. 
This handcrafted item features the four elements: Nature, Fire, Water and Air. Each phone represents one of the elements. Specific components are meticulously crafted into the iPhone's back panel making each design unique and different. Each phone will be exclusive to its owners by having a limited series number engraved on it. 
The artifacts are carefully hand produced in a multistaged process, resulting in a limited edition of Hadoro's Nature. Hadoro. The designers and craftsmen created 4 phones per model: iPhone 12 Pro, iPhone 12 Pro Max &  iPhone 12 Mini.
SPECIFICATIONS
Back panel: carbon fiber composite material, G10 composite material, 18K gold (yellow or white), tiger's eye.

Design: 3D horse image.

Logo: LED-backlit with low battery consumption, made from scratch-proof sapphire glass.

Housing and buttons:
Yellow gold design: 24K gold-plated.
White gold design: original space gray.

Wireless charging (works with Qi chargers).

Display:
iPhone 12 Pro: Super Retina XDR display, 5.8-inch (diagonal) all-screen OLED Multi-Touch.
iPhone 12 Pro Max: Super Retina XDR display, 6.5-inch (diagonal) all-screen OLED Multi-Touch.

Memory: 256 GB.

Weight:
iPhone 12 Pro: 201 g.
iPhone 12 Pro Max: 239 g.

Dimensions (H/W/D):
iPhone 12 Pro: 144 x 71,4 x 8.6 mm.
iPhone 12 Pro Max: 158 x 77.8 x 8.6 mm.

SIM-free and unlocked. Can be used with any network throughout the world.

Packaging: signature Hadoro box, a set of accessories, a documentation package.
CUSTOMIZATION PHILOSOPHY
Your mobile phone is an extension of yourself, something you cannot imagine your day without. Knowing that mobile phones are mass-produced, customizing and personalizing your phone can give it the personality that marks it as nobody else's but yours.


Hadoro is a team of perfectionists united by the passion to create unique and personalized pieces of technology. We strive to create products that are unique - giving you one-of-a-kind works of art made by hand. Once we are done with your mobile device, expect to see precision to the last pin, and genuine artistry and innovation at every turn.


How Hadoro does it

The basic device is disassembled; a new housing is manufactured from scratch from premium materials. The assembly process consists of several stages, all done manually, including assembly itself, polishing and final fitting. Hadoro selects only the best materials for their creations, such as titanium, stainless steel, marble, genuine leather, sapphire glass, gold and gems. They develop their own premium materials, like carbon fiber and aircraft aluminum. Through these, They are able to show your individuality and taste.
Référence : Hadoro iPhone 12 Series Carbon WATER
Tableau de Conversion des tailles

EU
US
36 eu
4 us
36 2/3 eu
4.5 us
37 1/3 eu
5 us
38 eu
5.5 us
38 2/3 eu
6 us
39 1/3 eu
6.5 us
40 eu
7 us
40 2/3 eu
7.5 us
41 1/3 eu
8 us
42 eu
8.5 us
42 2/3 eu
9 us
43 1/3 eu
9.5 us
44 eu
10 us
44 2/3 eu
10.5 us
45 1/3 eu
11 us
46 eu
11.5 us
46 2/3 eu
12 us
47 1/3 eu
12.5 us
48 eu
13 us
48 2/3 eu
13.5 us
49 1/3 eu
14 us
50 eu
14.5 us
50 2/3 eu
15 us
51 1/3 eu
15.5 us
52 eu
16 us
52 2/3 eu
16.5 us
53 1/3 eu
17 us
Vous aimerez également