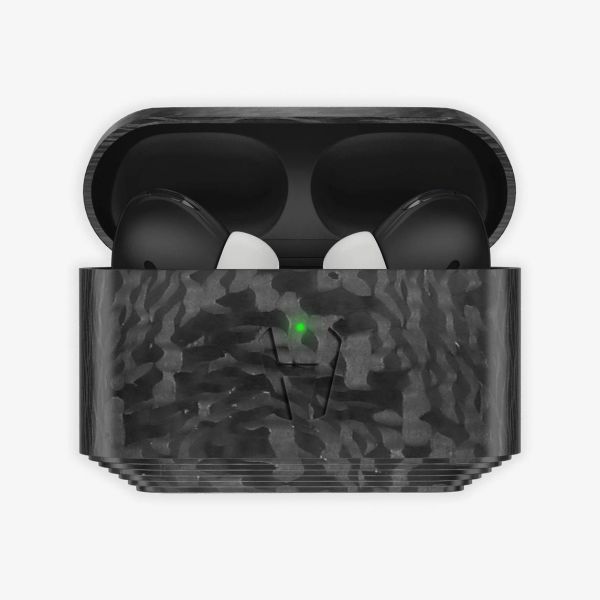 Hadoro Apple Forged Carbon Fiber AirPods Pro
Livraison partout dans le monde
Paiement 100% SÉCURISÉ (carte bancaire, virement ou prélèvement)
15 JOURS pour changer d'avis
Description
Built fondly by a team of expert craftsmen, with an idea of premium class and out-of-the-box ergonomic style in mind, the Carbon Fiber AirPods Pro break through the norm and take an aesthetically bold
...
En savoir plus
Built fondly by a team of expert craftsmen, with an idea of premium class and out-of-the-box ergonomic style in mind, the Carbon Fiber AirPods Pro break through the norm and take an aesthetically bold approach for your essential device.
 
Carbon fiber is a remarkably lightweight yet incredibly durable material, ideal for AirPods Pro, the essential everyday device. Guaranteeing excellence and quality of every piece, the production is a highly controlled and multistaged process. The original AirPods Pro case undergoes deconstruction and is recreated from carbon fiber blocks in a lengthy carving stage. The most delicate polish, completed only manually, gives the surface of the case a subtle shine and accentuates the pattern. The earphones and the case interior are coated with a scratch-resistant, soft-touch finish. The silicone ear tips stay uncolored.

The case bears an engraving of the Hadoro "H" logo.
FEATURES
1. Case : carbon fiber composite material.
The AirPods Pro can be charged with a wireless (Qi-compatible) charging pad or Lightning connector.
2. Earphones : durable and scratch-proof black matt finish.
3. Engraved Hadoro "H" logo.
4. Dimensions (HxWxD), weight (grams) : 49,5 x 60,3 x 21,5 mm, 60 g.
5. Hand-assembled.
6. Original accessories kit, including silicone ear tips (three sizes), and instruction.
Référence : Hadoro Apple Forged Carbon Fiber AirPods Pro
Tableau de Conversion des tailles

EU
US
36 eu
4 us
36 2/3 eu
4.5 us
37 1/3 eu
5 us
38 eu
5.5 us
38 2/3 eu
6 us
39 1/3 eu
6.5 us
40 eu
7 us
40 2/3 eu
7.5 us
41 1/3 eu
8 us
42 eu
8.5 us
42 2/3 eu
9 us
43 1/3 eu
9.5 us
44 eu
10 us
44 2/3 eu
10.5 us
45 1/3 eu
11 us
46 eu
11.5 us
46 2/3 eu
12 us
47 1/3 eu
12.5 us
48 eu
13 us
48 2/3 eu
13.5 us
49 1/3 eu
14 us
50 eu
14.5 us
50 2/3 eu
15 us
51 1/3 eu
15.5 us
52 eu
16 us
52 2/3 eu
16.5 us
53 1/3 eu
17 us