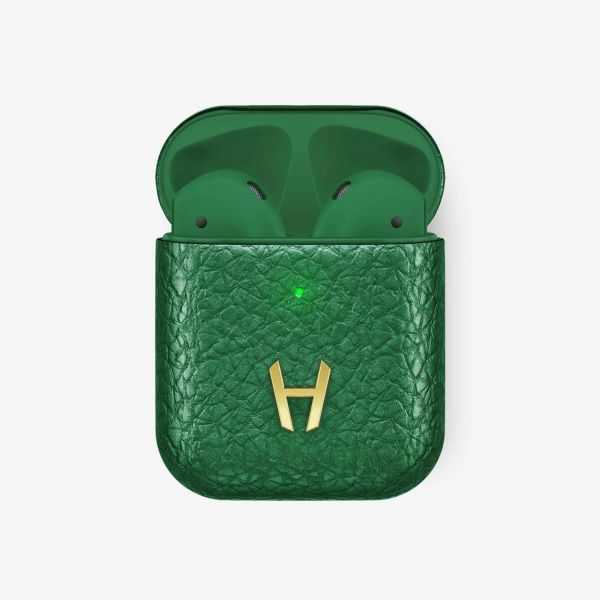 Hadoro Apple AirPods Calfskin
Livraison partout dans le monde
Paiement 100% SÉCURISÉ (carte bancaire, virement ou prélèvement)
15 JOURS pour changer d'avis
Description
Description : Hadoro delivers superb class and design in its exclusive calfskin leather AirPods. The exterior of the AirPods is bound in premium calfskin leather. With this high-grade material, Hador
...
En savoir plus
Description :
Hadoro delivers superb class and design in its exclusive calfskin leather AirPods. The exterior of the AirPods is bound in premium calfskin leather. With this high-grade material, Hadoro turns an everyday accessory into an aesthetic triumph.
The in-ear headphones and the case interior have a soft-touch matt finish, color-matching the fine leather for a perfect eye-catching design.
Every detail on the case is handmade by a team of craftsmen at the company's atelier in Besancon, France. Hadoro selects and makes use of only the best materials around, so you get the softest leather that looks and feels exquisite and elite. As the natural leather varies in grain and texture, each pair of AirPods will have one-of-a-kind detailing.
Features :
1. Case: premium calfskin leather
The AirPods with the wireless charging case can be charged with a wireless (Qi-compatible) charging pad or Lightning connector.
The AirPods with the non-wireless charging case can be charged with a Lightning connector.
2. Earphones: durable and scratch-proof matt finish
3. Hadoro "H" logo in metal with a variety of finishes: stainless steel, gold, black gold, and rose gold
4. Dimensions (H x W x D), weight (grams): 56,5 x 46,3 x 22 mm, 45 g
5. Hand-assembled in France
6. Original accessories kit and instruction
Materials :
The leather material we use is natural and is a product of an intricate tanning process. The very nature of our leather material means that no two pieces are exactly alike. The color, grain, and texture will always vary, and through time, you'll find the leather getting more beautiful as it ages and goes through the usual wear and tear.
This is also the reason why pictures of the product may differ from the actual product. Because no two leather pieces are alike, you may notice that the perceived texture and pattern on product pictures may appear different once you receive the actual product.
Référence : Hadoro-AirPods-Calfskin
Tableau de Conversion des tailles

EU
US
36 eu
4 us
36 2/3 eu
4.5 us
37 1/3 eu
5 us
38 eu
5.5 us
38 2/3 eu
6 us
39 1/3 eu
6.5 us
40 eu
7 us
40 2/3 eu
7.5 us
41 1/3 eu
8 us
42 eu
8.5 us
42 2/3 eu
9 us
43 1/3 eu
9.5 us
44 eu
10 us
44 2/3 eu
10.5 us
45 1/3 eu
11 us
46 eu
11.5 us
46 2/3 eu
12 us
47 1/3 eu
12.5 us
48 eu
13 us
48 2/3 eu
13.5 us
49 1/3 eu
14 us
50 eu
14.5 us
50 2/3 eu
15 us
51 1/3 eu
15.5 us
52 eu
16 us
52 2/3 eu
16.5 us
53 1/3 eu
17 us