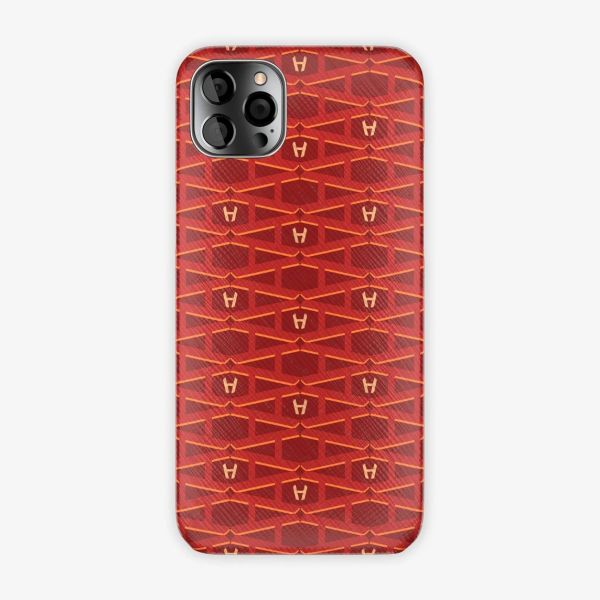 Hadoro Monogram Case for iPhone 12 Series - Le Marty
Shipping Worldwide
100% SECURED payment (credit card, transfert or direct debit)
15 DAYS return policy
Description
Le Marty is the classic case from the new monogram collection by Hadoro. The collection presents a new material, monogram canvas with a newly developed branded pattern emphasizing the signature Hadoro
...
Learn more
Le Marty is the classic case from the new monogram collection by Hadoro. The collection presents a new material, monogram canvas with a newly developed branded pattern emphasizing the signature Hadoro "H" logo. The print is designed in 7 colors, from subtle black to brightest yellow, to appeal to a vast audience.
The monogram canvas collection is the new fashion-oriented niche for the brand, widely known for its exotic leather accessories
MATERIAL :
The leather material we use is natural and is a product of an intricate tanning process. The very nature of our leather material means that no two pieces are exactly alike. The color, grain, and texture will always vary, and through time, you'll find the leather getting more beautiful as it ages and goes through the usual wear and tear.
This is also the reason why pictures of the product may differ from the actual product. Because no two leather pieces are alike, you may notice that the perceived texture and pattern on product pictures may appear different once you receive the actual product.
Référence : Hadoro-Monogram-Case-iPhone-12-Series-Le-Marty
Size Conversion table

EU
US
36 eu
4 us
36 2/3 eu
4.5 us
37 1/3 eu
5 us
38 eu
5.5 us
38 2/3 eu
6 us
39 1/3 eu
6.5 us
40 eu
7 us
40 2/3 eu
7.5 us
41 1/3 eu
8 us
42 eu
8.5 us
42 2/3 eu
9 us
43 1/3 eu
9.5 us
44 eu
10 us
44 2/3 eu
10.5 us
45 1/3 eu
11 us
46 eu
11.5 us
46 2/3 eu
12 us
47 1/3 eu
12.5 us
48 eu
13 us
48 2/3 eu
13.5 us
49 1/3 eu
14 us
50 eu
14.5 us
50 2/3 eu
15 us
51 1/3 eu
15.5 us
52 eu
16 us
52 2/3 eu
16.5 us
53 1/3 eu
17 us