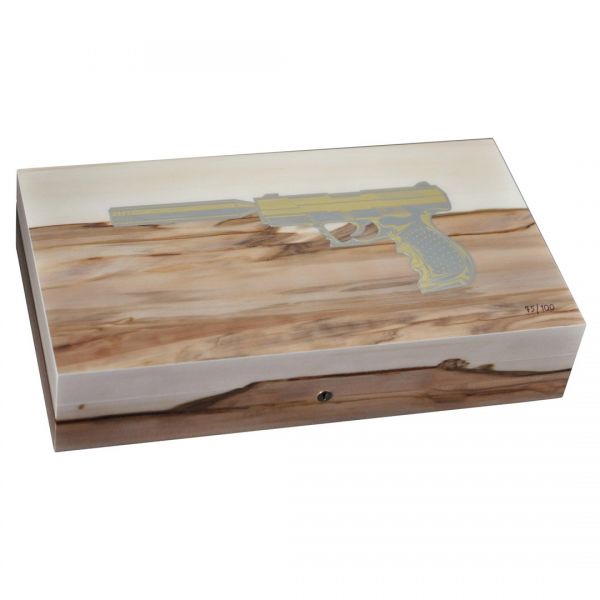 Humidor Box Gun Redgum Bi-Métal - 110 cigars - Limited Edition
Shipping Worldwide
100% SECURED payment (credit card, transfert or direct debit)
15 DAYS return policy
Description
Limited and numbered edition from 1 to 100. "GUN" Collection Elie Bleu has developed the Gun range around the figure of the automatic pistol, symbol of strength.The decoration decorated with a repli
...
Learn more
Limited and numbered edition from 1 to 100.
"GUN" Collection
Elie Bleu has developed the Gun range around the figure of the automatic pistol, symbol of strength.
The decoration decorated with a replica of a weapon fitted with a silencer gives the case a virile character.
Savoir-Faire
ELIE BLEU has been striving for decades to put all its creativity at the service of its productions, the tradition of which is faithfully guaranteed. ELIE BLEU has always been able to maintain the quality of its production at an exceptional level, the fruit of true know-how. Notably acquired by selecting among the most beautiful precious woods and the rarest exotic species that only a few still work.marquetry which is worked by hand, as do jewellers, which requires countless manipulations before becoming a true luxury item.
Box Gun redgum Bi-Métal for 110 cigars of the "Gun" collection.
Product characteristics :
110 Cigars (capacity)
2 Humidifiers
1 Needle hygrometer
Dimensions :
Width : 48.50 cm | 19.09 inch
Depth : 27 cm | 10.63 inch
Height : 10.50 cm | 4.13 inch
Maintenance tips :
Keep away from heat sources
Clean the varnished surface with a cloth impregnated with alcohol diluted with water or window cleaner.
Never use water inside the box.
Référence : Elie Bleu Gun Redgum Bi-Métal - 110 cigares
Size Conversion table

EU
US
36 eu
4 us
36 2/3 eu
4.5 us
37 1/3 eu
5 us
38 eu
5.5 us
38 2/3 eu
6 us
39 1/3 eu
6.5 us
40 eu
7 us
40 2/3 eu
7.5 us
41 1/3 eu
8 us
42 eu
8.5 us
42 2/3 eu
9 us
43 1/3 eu
9.5 us
44 eu
10 us
44 2/3 eu
10.5 us
45 1/3 eu
11 us
46 eu
11.5 us
46 2/3 eu
12 us
47 1/3 eu
12.5 us
48 eu
13 us
48 2/3 eu
13.5 us
49 1/3 eu
14 us
50 eu
14.5 us
50 2/3 eu
15 us
51 1/3 eu
15.5 us
52 eu
16 us
52 2/3 eu
16.5 us
53 1/3 eu
17 us
You will also like